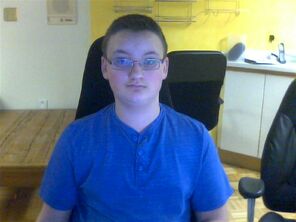 Ignus is the name of the member previously known as Aduro.
Ignus, also known as Imac1999, was recruited at the end of the first recruits. Ignus is the one of two members located in Canada. He is also Magus' older brother. The Elemental name he was assigned was Aduro, but he has since changed. He is now known by Ignus, Latin for Fire. 
Gaming History
Ignus' first gaming experience was GTA: san andreas on his friends PSP. however, his first console only came two years later, when he got a second hand ps2. Ignus is currently running most of his games off of a Custom Built computer
Trivia
His real name is Iain
Is left handed. (We're rare you know, 10% of the world)
Is gifted in math and science
He can recite the first 17 digits of pi.
Before moving to Toronto, Aduro lived in Yellowknife, a city far north in Canada, and Namibia, a country just north of South Africa.
His younger brother is Tempus.
Was once the substitute teacher for his grade 8 class.
He actually likes math class.
Ad blocker interference detected!
Wikia is a free-to-use site that makes money from advertising. We have a modified experience for viewers using ad blockers

Wikia is not accessible if you've made further modifications. Remove the custom ad blocker rule(s) and the page will load as expected.