Rachel, better known as Pyro or Luna Laufeyson, is one of first female members in the Elementals. The Elemental name that she chose was Pyro, which is Latin for fire. She does Minecraft Let's Plays with Jack, and is also writing a book with Jack called the "True Tekkit." She started the wiki, and with the help of all the other members, she is able to handle and manage the wiki. Pyro has an important role as the website manager and chat administrator.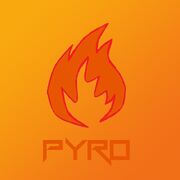 Introduction to gaming:
Her first gaming system she can remember is a Gameboy Advanced, on which she played a Kim Possible game (that she usually would have to take from her sister's room). Her family then got an Xbox 360 about a year or so after, and she played one of the Sonic the Hedgehog games from 2005, as well as one of the first Lego Star Wars games. Another year or two later, her family got a Nintendo Wii for Christmas, that she also played Lego Star Wars on, and most recently, Legend of Zelda: Skyward Sword. For Christmas she got a Wii U, and has since continued playing on her Xbox Lego Harry Potter: Years 1-4, Lego Harry Potter: Years 5-7, and Lego Lord of the Rings.
Quotes: 
"Oh, bugger you."
"And you have my bow."
"Ttfn, ta ta for now!"
"Don't agro me or I will hit you."
"Mu.."
"BATMAN"
"Bertmern."
(When answering questions for a pageant her sister is in) [Her sister asking the question]"What is one thing that you think sets you apart from all the other contestants?" [Pyro]"I'm Batman."
"FFFFFFFFFF"
"NIE! NIE! NIENIENIENIENIENIE!"
singing/muttering random things to herself in Japanese*
Trivia:
Can speak Finnish and Irish relatively well.
Also speaks Elvish (Quenyan) to a lesser extent.
She can write in Dwarvish and Elvish (prefers Quenyan for the Elvish).
Has a fat cat named Tigger.
Needs glasses because her reading so much made her eyesight bad.
Is a cutie